ANISS is a finalist in the competition « La France s'engage », with the « 800,000 births » project
Support our project by clicking here
The objective: Reduce inequalities from birth
As part of our « Petits pas, Grands pas » (Small Steps, Big Steps) approach, we have developed a system to reach all parents in a territory: « 800,000 births ».
Access to prevention services is essential to reduce social inequalities in health. In our national prevention services (PMI) survey, we found that 20% of families were seen by PMI services during pregnancy and 40% after pregnancy. These figures are insufficient to maintain equality between families.
800,000 children are born each year in France. It is necessary for everyone to be able to benefit from the same services.
It is now difficult for PMIs to access all parents and for some parents to access PMIs.
We will rebuild this bond.
« 800,000 births »: What is it?
As soon as a pregnancy is declared, parents receive a text message (SMS) informing them of the existence of PMI services and how to access them. They are informed that telephone contact will be made with them around the 4th month of pregnancy.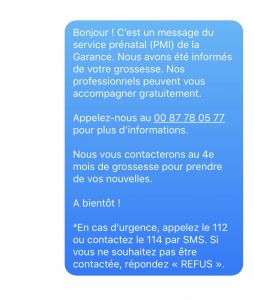 Around the 16th week of pregnancy, a clinical worker (midwife, child nurse) contacts the parents to introduce them to the services of the PMI verbally, inform them of the activities that can be offered during pregnancy, and encourage them to contact the services if necessary.
They are then offered an individualized clinical questionnaire to assess their social, psychological or somatic needs. Their follow-up in the health networks is checked and, if necessary, they are offered to meet with PMI staff for a consultation, a home visit or an early prenatal interview.
The objective of « 800,000 births » is to give life to the principle of proportionate universalism: services offered to all (universal) and complemented by a personalised offer (proportionate to needs).
« 800,000 births » makes it possible to move away from a prevention approach targeted on criteria, towards an offer centred on the needs of families.
The project will ensure that no parent is left on the edge of the services because they were not able to take them over.
We will repeat a step of going towards, fundamental in the intervention of the PMIs.